Benefits in Brief
GTS Data now available on the Web
WIS Catalogue now covers both GTS and non-GTS data of other programmes
Flow of GTS Data
Before WIS
Meteorological data and products were relayed via RTHs from the originating centre to all other centres. Receipt was exclusive to national meteorological services (NMSs), while other organizations had to contact NMSs in the country to arrange redistribution.
There was a catalogue of GTS bulletins, and RTHs were responsible for submitting information to the WMO Secretariat.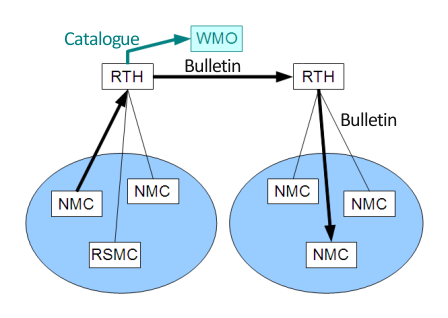 After WIS
GISCs have a Cache where GTS data intended for global distribution are stored and published on the Web (usually the Internet). GISC cache usage is not limited to NMSs (although authorization by NMSs is required for restricted data).
GISCs also have a catalogue containing metadata collected from NMCs. These centres exchange metadata with one another.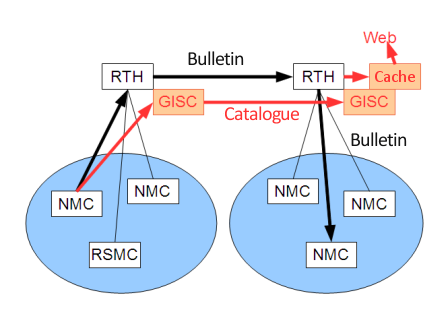 Flow of Non-GTS Data
Before WIS
Non-GTS data/products in most cases were directly distributed from the data/product centre.
There was no WMO-wide common catalogue of data.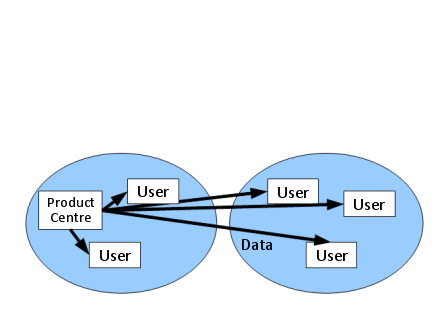 After WIS
Data distribution topology is unchanged.
GISCs collect metadata from data centres. Metadata are exchanged and are visible in the DAR catalogues located at GISCs. The metadata format is the WIS standard,consisting of the WMO Profile of ISO 19115/19139. The DAR catalogue thus covers all WIS data rather than being limited to GTS.